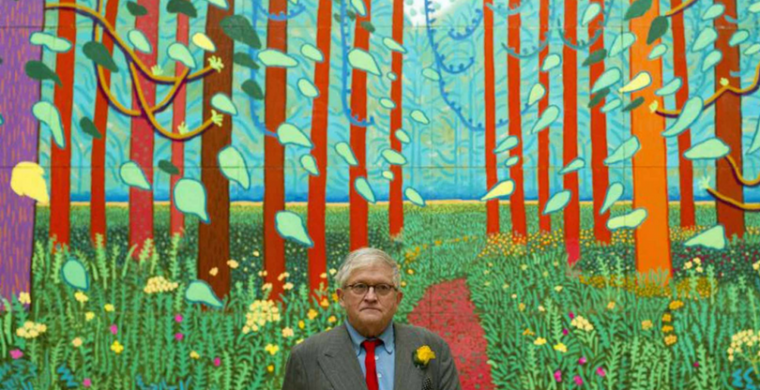 David Hockney, l'artiste protéiforme
Retour sur l'exposition magistrale du peintre David Hockney au centre Pompidou :
10 raisons d'apprécier cet Artiste.

Hockney est un rare touche à tout talentueux : pas d'excuses, il y en a pour tous les goûts, dessin, gravure, photo, peinture, vidéo… L'artiste essaye et découvre, ajoutant à chaque fois sa folie et sa singularité. Avis aux curieux d'arts visuels !
Hockney représente une ellipse temporelle à lui tout seul : son œuvre recouvre la folie du pop art et l'hyperréalisme des années 60, et emmêle figuratif et expressionnisme dans un mix bienvenu de peinture et de photos. Merci pour cette vision historique et évolutive de l'Art !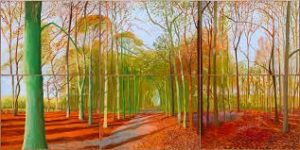 Hockney a reçu une formation classique : il fait ses armes au Royal College of Art avant de partir en Égypte où il sera dessinateur de presse. En 1964, le peintre caméléon s'en va explorer une liberté nouvelle aux États-Unis et se met à décrypter le californian way of life.
Hockney est un fou de couleurs : il les fait danser de toile en toile, jamais agressives mais d'une violence fine et attirante, qui donne une impression de saut dans le vide, de plongée dans l'œuvre. Allons réveiller la grisaille d'octobre avec cette célébration ensoleillée et rougie des campagnes californiennes !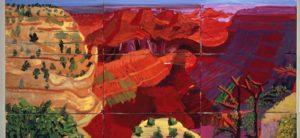 Hockney, c'est un pied de nez aux codes et aux restrictions sociales : il assume, valorise, sublime la relation fusionnelle qu'il entretient avec Peter à travers sa thématique de la piscine. Et c'est une représentation du corps masculin à la fois réaliste et simplissime.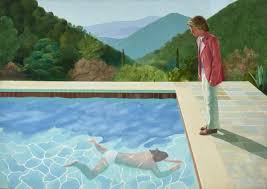 Hockney fait du pop art : après sa rencontre avec Andy Warhol, il se lance dans l'acrylique et teint ses cheveux de blond platine. Passionné par la superficialité assumée du lifestyle californien, David peint piscine sur piscine, explore l'éphémère de la gerbe d'eau dans sa toile majeure A Bigger Splash et signe une peinture à la fois figée et visionnaire.

A Bigger Splash (1967)

Hockney est un inventeur : ses photos assemblées en une image pleine de mouvement sont la preuve de sa façon d'appréhender le monde, changeante et infiniment vivante. Toute sa vie et jusqu'à aujourd'hui, il n'a jamais cessé de chercher, d'être curieux, de tout tenter. Un exemple à garder en tête.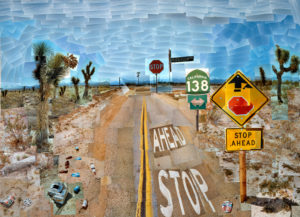 Hockney est icônique. Il a marqué plusieurs époques, piochant à chaque fois l'essence des lieux et des gens. Il est un des premiers à avoir dessiné sur un Ipad en 2010 et aujourd'hui, se moquant de ses 80 ans, il filme les quatre saisons. Personnellement, il me donne envie de vieillir.
Hockney est un amoureux de la vie. Il se dit « insatiable d'une vie exaltante » et le montre dans un Art parfois touffu, ultra diversifié, original, anticonformiste et envahissant pour la rétine et la pensée.
Hockney a exposé au centre Pompidou,qui lui a réservé un espace privilégié, aux salles percées de larges fenêtres qui révèlent « Paris en mode circulaire ». Rien que pour le lieu, on y est allé en courant et en fredonnant.